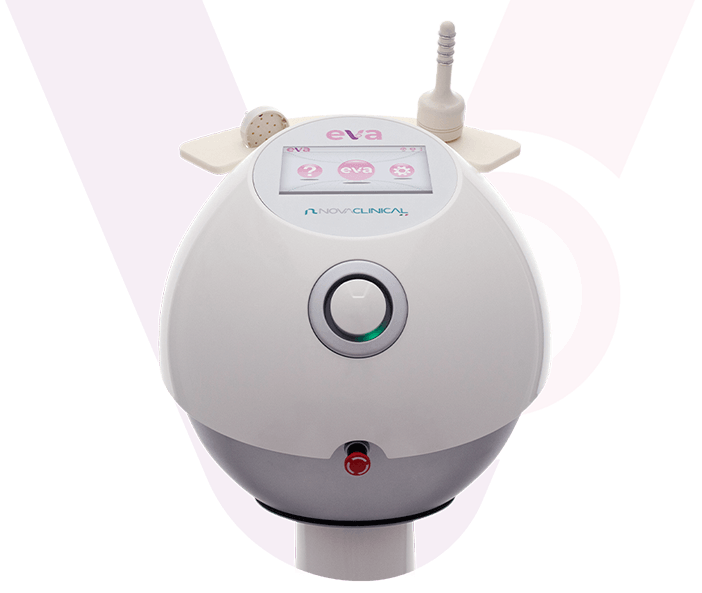 Device
VDR TECHNOLOGY VAGINAL DYNAMIC RADIOFREQUENCY: EFFECTIVE, NON-ABLATIVE SOLUTION FOR THE MOST COMMON VULVOVAGINAL DISEASES.
The Eva device. Safe, state-of-the-art platform at the service of female intimate health.
Presenting Eva™  as a simple device would be demeaning as we are talking about an actual platform: multiple protocols, various technologies, safety systems for an effective treatment that is safe for both patients and the very operator.
What makes this device truly special is definitely its dynamic quadripolar radiofrequency (DQRF™ ), a technology developed at Novaclinical laboratories which evolved into Vaginal Dynamic Radiofrequency (VDR™  ) in EVA, to offer an alternative, non-ablative treatment for most vulvovaginal disorders and diseases. Exploiting dynamic quadripolar technology means reaching even the deepest tissues, focusing energy on specific tissue layers and achieving visible results already in the medium and short term.
EVA, THE DEVICE FOR FEMALE INTIMATE HEALTH
Designed and manufactured entirely in Italy, Eva is certainly one of Novaclinical's leading products.
Featuring minimal, elegant design, the device easily complements the premises where it is installed.
Embedding simple, intuitive software, Eva will physically support the operator throughout the treatment. In line with the ongoing evolution of the IoMT world, it will allow you to have an always up-to-date device.
The device is equipped with a special shielded cable designed by our R&D team, which ensures the operator works in full safety throughout the treatment.
VAGINAL TIP

The special ergonomic tip is used to treat the innermost areas. Thanks to ring-shaped emitters/receivers able to provide an all-round heating of tissues it ensures a painless, truly pleasant experience for the patient.

VULVAR TIP

Special tip with 4 emitters/receivers to treat the outermost areas.