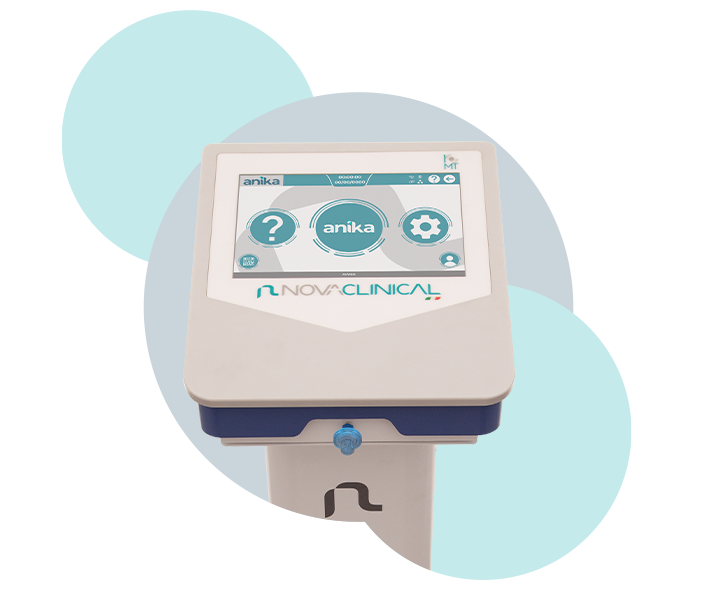 State-of-the-art technology to
enhance the natural
properties of oxygenation.
Carboxytherapy enters into a total-body phase thanks to the continuous research carried out in our laboratories.
Carboxytherapy, first introduced in the early decades of the 20th century, has become a state-of-the-art treatment thanks to the team of researchers at Novaclinical laboratories, who have been able to devise new protocols that have turned it into a total-body therapy: effective for face and body, including vulvo-vaginal applications. What makes the device so versatile is the CCFTM CO2 Control Flow – a technology that regulates gas emissions (from 5 to 600 cc/min) constantly and precisely for clinical applications in various fields: from dermatology to gynaecology, to plastic and cosmetic surgery. AnikaTM is equipped with an intuitive, user-friendly software, with constantly updated protocols resulting from the work of our scientific board, so that the doctor can focus on the patient alone.
AnikaTM 
The precise and safe oxygenation dispenser.
The new Novaclinical device is the result of work done in our Italian laboratories in all respects.
With its careful design, it results from the synergy of several teams working together: R&D for the technologies backing the treatment for a safe, effective insufflation of CO2; the software programming, for an easy, intuitive user experience; the design of the case – minimal and elegant – conceived to contain the CO2 bottle in total safety.
Medical pressure relief system with 20 um filter

The system makes it possible to safely connect the medical CO2 bottle to the device thanks to a pressure relief system, safety valves and a PTFE membrane filter at the entry point.

Biofeedback Control

Thanks to an electronic bracelet, the user can stop the treatment, taking active part in the session.